(10 bags of 100 pieces each + my feet for scale.)
We decided to make 1000 pieces of jewelry to donate to the kids in the Iris Ministries Orphanages in Mozambique, Africa. Why 1000? 100 just wasn't enough. Abundant blessings poured out of the overflow from our hearts! Kids LOVE getting gifts for Christmas! It was so fun putting these gifts together, too, like playing "arts & crafts". We made a bunch of stuff that is quite different from what we do for a living. It is sad to be finished now. Although these children are in orphanages, technically they aren't orphans. They know Daddy God, "Our Father Who art in Heaven"! For more info on Iris Ministries, here is their web-site: irismin.org. I really would love to visit these people some day! This is a mind blowing ministry. I have tremendous respect for Iris Ministries. They are changing the course of a nation. There is a photo gallery at irismin.org where you will find lots of fabulous pictures of some of the people who might soon be wearing the precious gems you can go see in this photo album link! Merry Christmas Everyone! Let's count our blessings and rejoice!
Bright happy earrings getting ready to be seriously loved!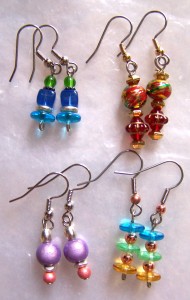 Pendants of all sorts.
I secretly LOVE the day-glow rubber cord!!!!!!!! Seriously!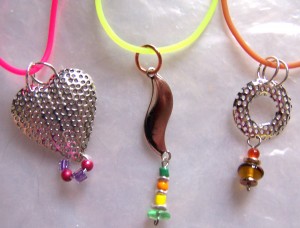 How 'bout this wacky stuff! Someone will enjoy these. They are on the big side! We had ordered some trial pieces from a findings company a while ago to see if they would fit in with our Hayden Brook style. The raw materials have been sitting in a dark closet for more than 5 years – but they are about to see light and be loved!
More pendant for the kids!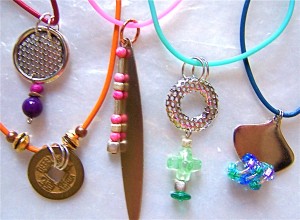 A touch of dichroic glass in a few pieces!
Ah yes, digging a little deeper in the closet… shell!
Not a great photo – but this piece of jewelry was pretty cool.  Had to get creative to figure out what to do about the hole in the middle of the flower…
it worked out alright, I'd say.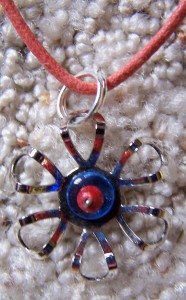 Bad photo of some of my favorite pieces. It isn't my style of jewelry –
but I could picture people falling in love with them.
Pretty hearts and flowers.
I enjoyed the look of these pieces… they were a bit of work though.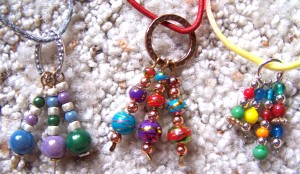 Necklaces heading to Africa.
A number of pieces were easier to make – just put a pre-fab pendant on a cord.
But, these raw materials cost more money originally.
The cross on a box is a functional locket!
Pendants on cord heading to Africa.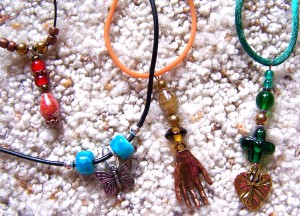 A number of pieces were easier to make – just put a pre-fab thingy on ear wires
But, these raw materials cost more money originally.
Love that day glow sting… realllllly, I do !
Necklaces heading to Africa.
Job satisfaction…. spread it out on the floor.
The pile on the left is some pieces I decided to photograph to show the variety.
Beaded Necklaces heading to Africa.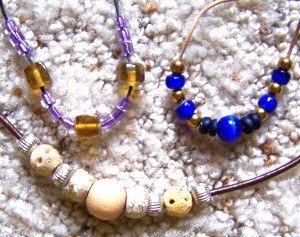 Colorful earrings heading to Africa.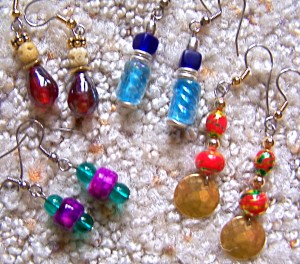 Variety of earrings heading to Africa.
I love this shot – look at it close up!
Big box of jewelry…. over-exposed – out of focus – my trademark!
I usually take bad photos.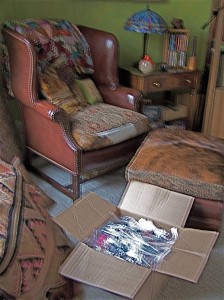 Pendants and earrings. Merry Christmas kids!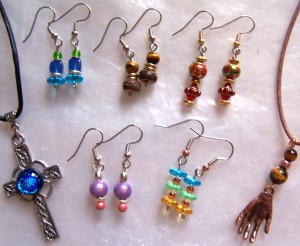 Mailing and insuring this box was outrageously expensive.
That will be one of the Christmas gifts to my amazing mother.
She is teaching me to live generously…  She leads by example.
(Merry Christmas Mom!)
Update 11/17/09,  Jewelry is being distributed:
Hi Laurie!
We received the box of goodies and are sooooooo blessed and excited! You made so many treasures! The bases will love being able to give these as gifts! Yesterday our staff went to lunch with our Iris Israel base leaders. We gave them a bag to take back and sow into the refugee camps there. They were very, very pleased. You're good at what you do.
You warmed and fuzzied our hearts and we ooohhhed and aawweeed over your works! Love and blessing to you… Thank you! The remaining 900+ pieces will be sent to 2 or more of our Mozambican bases for Christmas gifts.
Kathy,  Iris Ministries