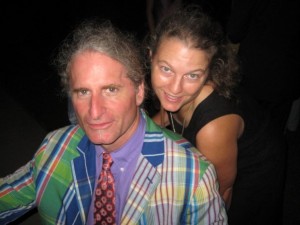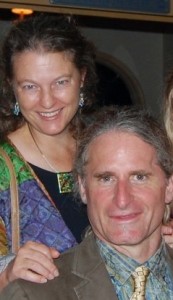 Hayden Brook Studios ~
Hayden Brook Studios?
She's Laurie Hayden & He's Brook Bergey
Laurie Hayden and Brook Bergey "met" at their 10 year high school reunion. They had never spoken to each other until that day. In fact, they each had led quite unique lives in the interim which prepared them to be very compatible when they finally did come together.
Hayden went to the University of Pennsylvania, and then immediately joined the Peace Corps after college. She lived in Africa, and then Jamaica, and travelled extensively in  Europe, Africa, and North America. When she returned to the USA, she worked in the field of Art Conservation at Hearst Castle, and the Philadelphia Museum of Art. Fusing glass was a passion that happened by accident along the way. When Hayden bought her glass kiln, she couldn't stop making glass. She says, "I had a big pile of jewelry already made, but what I needed was more glass. So, I had to start selling my jewelry to feed my new hobby." The hobby turned into a business almost instantly, and has matured and been refined over the last 17 years. The colors of Hayden's many travels is all over the jewelry lines.
While Hayden was exploring Africa, Brook was lying in a hospital fighting to stay alive. He had gotten in a car accident, and suffered a severe head injury, a broken neck, and a severed spine. While the head and neck trauma were healed miraculously, the severed spine left him paralyzed, for now. Well, this did not stop Brook from living life to the fullest. After the accident, he went to Temple University and graduated, Cum Laude, with a degree in Art and Art Education. Although his scholastic training was in 2D design and color theory, he was a clay artist when he and Hayden met, in 1993. When they started the business together, they sold both pottery and jewelry. But, women love their jewels, so eventually the Dichroic glass jewelry became the main focus of Hayden Brook Studios. Of Brook, Hayden says, "He is more alive, more secure, and in better shape than almost anyone I have ever met. He rides his bike thousands of miles each year!!"
Since 1994, Hayden Brook Studios has been selling finely crafted dichroic fused glass jewelry.  At this time, we have 40 lines of well thought out jewelry featured in over 350 shops and galleries across the United States.
Each collection has coordinating pieces, so that buyers and collectors alike can build sets, always coming back for more. We'd like to think that we build comprehensive jewelry lines better than any other dichroic glass jeweler in the hand crafted industry. The volume of sales of our dangle earrings, barrettes and tiny stud earrings are absolutely unparalleled.
Each jewelry line consists of:
1/4," 1/2",  &  3/4" Post Earrings,
Dangle Earrings,
Lever Back Earrings,
Drop Earrings,
Clip-On Earrings,
Rings, Brooches,
Slide Pendants in Multiple Sizes,
Dangle Pendants in Multiple Sizes,
Pin/Pendants in Multiple Sizes,
Link Bracelets,   Cuff Bracelets,
2.5" Barrettes & 3.5" Barrettes
As you can see, this is a very comprehensive line-up. We like to think of ourselves as the 1 Stop Shopping Spot for Dichroic Fused Glass Jewelry. We've intentionally designed some of our lines to be very uncomplicated, and affordable for this current economic season.  Each year, we design and develop new lines.  While at the same time we continue to offer lines which we have designed throughout the years, some of which are more complex.  We've found that offering new lines that are complimentary to existing lines is pleasing to shop/gallery owners and their customers alike.  Our different, distinctive, always growing and improving lines provide jewelry for diverse spending patterns.  We handcraft each and every piece of jewelry ourselves – right here in the United States.  At Hayden Brook Studios, we utilize cutting edge dichroic technology combined with the best findings and materials available.
Hayden Brook Studios has been displaying dichroic fused glass, Sterling silver, and mixed media jewelry at the Buyers Market of American Craft since 1997, at both the winter and summer shows.  We are also active on Wholesalecrafts.com.
We have been selling to some very impressive accounts for a large number of years, including the An American Craftsman Galleries in NYC, and The Corning Museum of Glass Gift Shop.  In addition, we've been selling our work to companies located in international airports, in both Denver and Chicago. Our work is represented in a gallery in Walt Disney World.  The Philadelphia Museum of Art also carries our jewelry in their gift shop. We know we're doing things well since glass blowers and glass museums pay us the fine compliment of letting us supply their retail locations with dichroic fused glass jewelry!  Our work has been displayed in over 350 shops and galleries across the United States. We proudly develop and cultivate personal relationships with each and every account.
Brook and Laurie have been married since 1995.
They founded Hayden Brook Studios in 1994.