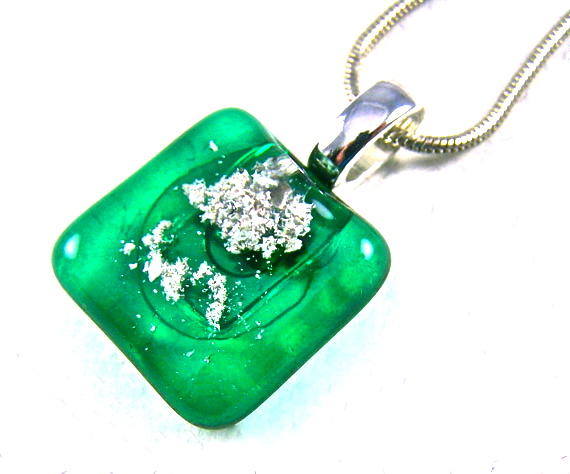 Stained Glass Window Cremation Ashes Memorial Pendant Viridian Teal Green
Custom Size, Custom Colors…  (Small- 1/2″ / 12mm, $21.99) (Medium – 75″ / 20mm, $24.99) (Large – 1″ / 25mm, $27.99) …. This listing is for a custom made stained glass pendant, but we also work with dichroic glass. The chain is not included, but we do have chains in the shop. Sold individually, chains not included.
You choose the color…… Available colors: Cobalt Blue, Turquoise Blue, Golden Amber, Red, Orange, Lime Green, Deep Emerald Green, Deep-deep purple, Pastel Violet, Black, White. Base metal findings. The silver-white mark is where the ashes are nestled. The ashes never sprinkle exactly the same way twice. You can let me know if you'd prefer the ashes sparse, or more dense, more condensed, or more dispersed.
THE ITEMS IN THESE PHOTOS ARE NOT FOR SALE. These are for inspiration, and serve as models for custom pieces that we can make for you and your family. All of our memorial pieces are made to order for you and your friends and family. This item can be made in different colors. What colors would you like?
To see the home page of our website, CLICK HERE.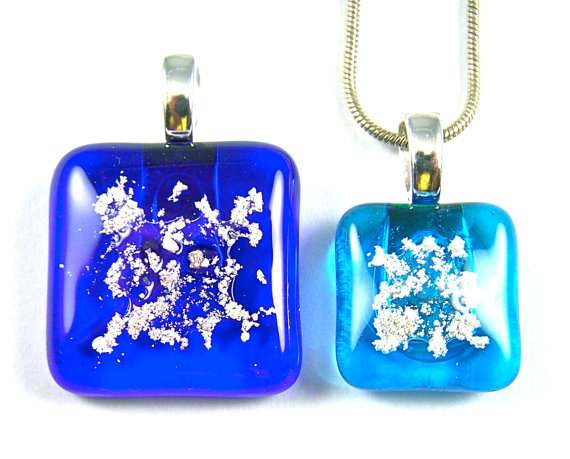 It is about the Ashes: In these items, the white-gray mark is where the ashes are nestled. We can also hide the ashes in the back of some of our designs. That requires adding an extra layer of glass. We turn ashes into something beautiful. We can use the ashes of a person or a special pet. We have served the best friends of dogs, cats, bunnies, and even guinea pigs.
Choosing a Design: When placing your order, you can give us some color guidelines, or look at other items in our etsy shop. (Hearts are nice~! Clocks can be symbolic of the precious time you spent together!) You can actually order pet cremation items directly on etsy, but it is against the rules of etsy to sell cremation pieces of people. I didn't find that out until after I had made over 70 unique items (several hundred pieces) which I am migrating to this website.
The Ordering Process – You send us a 1/4 teaspoon of your loved one's cremation ashes and we make something special just for you. We promise to handle your loved one's cremains with the utmost of respect, and return what we do not use with your finished product. We can make pendants or earrings, or any number of other things. Some people get items for the whole family. This is your special order. We'll try to make what you would like. Let's talk~! Perhaps I will eventually learn how to add a shopping cart to this website, but until then we'll have to communicate via email and paypal invoicing. Read more about The Ordering Process or Contact Us.
Family Orders – Some families order many pieces and prefer to have each piece with a unique style, or color combination. Other families request that we make all of their pieces the same… to keep the peace and make everything equal. We made 40 pieces for one quite large family. It was truly awesome to see those pieces all together. There will be some minor variations when we make multiple pieces for a family, as these are hand crafted.
To see all of Cremation Jewelry: CLICK HERE.
See More Pendant Designs:  Click Here.
Pin-Pendants:  Many of our pendants can be made with a "pin-pendant" backing. This type of back can be used as a brooch pin or as a pendant. They make great gifts if you are not sure which the recipient would prefer. It is like a 2-in-1. Let us know if you would like a pin-pendant on your piece. Photo below.
_____________________________
Dichroic Glass – We normally work with dichroic glass, so here is a blurb about it:
It is not possible to capture all the nuances of dichroic glass in photographs. That, of course, means that you will have an even more dynamic piece of jewelry when you are wearing it. We work primarily with dichroic glass. Di-chroic means two colored, or multicolored) . This type of glass transmits light in one wavelength, & reflects light in two other wavelengths. It is common for dichroic glass to appear as 2 or 3 different colors, simultaneously. Dichroic glass is coated with electronically excited metallic particles in a vacuum chamber, at elevated temperatures. In our studio, we start with large sheets of glass which we cut into small pieces. These pieces are specially arranged & melted together in a kiln to form our jewelry.The memorial pieces are custom-made and handcrafted at Hayden Brook Studios. FL, USA.
If you love our work in these pieces, and would like to see more of our work, we host our online shop on etsy. Come have a look around. The variety and the colors are mind boggling! (Or maybe we can make this item for you without ashes.)
_____________________________
***** Oh. My. Goodness. They are PERFECT! I want to get a picture so I can share, but exquisite doesn't do them justice. The larger piece actually matches the shirt I had on when I opened them perfectly. WOW! You have really made me very, very happy and I want to share everywhere. THANK YOU SO MUCH!
***** Love love love~! Thank you. The one with the bubble I think is cool the way the ashes sort of move up and down. After seeing the crosses I decided to give mine to my 96 yr old mother in law (for now). I had thought she wouldn't use one, but after seeing them I changed my mind.
*****IT'S PERFECT! EXACTLY what I wanted! I am so freaking excited!! Seriously – it made me cry. Thank you so much! You have no idea how much I love it, and appreciate how much thought you put into it. Seriously! I showed the picture to my husband, and he said that it was perfect for me. I can't wait to show everyone! And, I can wear it as a necklace, right? [Answer is YES.] I should have asked you for some business cards – we have adoption meets once a month, and we're all "crazy" guinea pig people. Thank you so much for giving me a piece of art that can travel on my backpack, and memorialize my sweet guinea pigs. It's exactly what I hoped for!
***** I am MORE than pleased with my purchases. They are even more beautiful than they appeared on a computer screen. I have received so many compliments and others want information about where I purchased them. Thank you so much. I will be ordering more jewelry for family members.
***** Love my cross!!! The entire process was a wonderful experience. My dads ashes were used in the jewelry and it is a very awesome piece. It is truley one of a kind. I HIGHLY recommend them!!
***** This necklace is the most meaningful piece of jewelry I own. I can now carry my beautiful and dear mother in law close to my heart, wherever I go. She was truly a second mother to me, and she was taken too early from this world. The shop owners were absolutely a dream to work with, and they made sure to create a beautiful and custom piece that I would treasure forever. Whereas other cremation jewelry is quite over priced (and definitely out of my budget), Brook and Laurie are able to offer this jewelry at affordable prices as a service to those who are grieving or want to honor their loved ones. I am so thankful for them, and I highly recommend this shop! Thank you from the bottom of my heart!
***** Hayden, my earrings are just awesome!!! I love the colors that you used, and I can't wait to dress up and wear them! This pair and the ones that I purchased last year for my girl friends are truly works of art. Thank you again for working with me 🙂
***** I received my beautiful memorial necklace tonight. Its so bright a cheery, a wonderful way to remember my beloved grandparents. Thank you for your clear communication, fast service and respect shown to my loved ones. I will definitely purchae again.
***** A stunning piece of jewelry; I'm sure the ashes have made the shape of a fish and my husband loved fishing! Good people to deal with!
***** I sent a letter describing my dear husband along with pictures of him and they captured him beautifully in their work. It is gorgeous. I only wish he were here to enjoy it with me. I would highly recommend Hayden Brook for any work you want done. I simply love it.
***** AN INCREDIBLE CREATION! WHAT A TREASURE. MY DAUGHTER WENT TO HEAVEN EARLY FROM CYSTIC FIBROSIS. HER BIRTHDAY WAS DECEMBER 2nd, WHICH WAS THE DAY WE PUT OUR CHRISTMAS TREE UP & THE DAY WE WOULD TAKE IT DOWN WAS ON JANUARY 5th, BUT INSTEAD, GOD TOOK HER HOME ON THAT DAY, SO HER TREE HAS STAYED UP IN HER ROOM BY THE WINDOW. THIS INCREDIBLY MAGNIFICENT CROSS IS NOW HANGING ON HER LITTLE TREE WITH GOD'S LIGHT SHINING AL THROUGH IT. THESE ARTISTS ARE TRULY GIFTED. THE COLORS & DESIGN ARE AMAZING. WONDERFUL, HEARTWARMING COMMUNICATION & SAFE PACKING. THANK YOU SO MUCH FOR SHARING YOUR TALENT WITH OTHERS. BLESSINGS TO YOU. MY DAUGHTER IS ADMIRING YOUR CREATION FROM HEAVEN.
_____________________________
THOUSANDS MORE FEEDBACK COMMENTS:
 You can go to the feedback section of our etsy shop to read thousands of other stellar reviews of our work: 
CLICK HERE
KEEP SHOPPING: If you love our work in these pieces, and would like to see more of our work, we host our online shop on etsy. Come have a look around. The variety and the colors are mind boggling!
CONTACT US:  Perhaps I will eventually learn how to add a shopping cart to this website. Until then you will have to reach me by email to order memorial pieces, except pet memorial items, which are permissible to sell in our etsy shop. To